Our 2018 Rookie WR rankings for Fantasy Football drafts should convince you of a few things this summer, the first of which is you shouldn't rely too heavily on the first-year players from this position.
One of the best ways to learn how some 2018 rookie wide receivers might help your Fantasy team would be to look back to see how rookie wide receivers have done in the recent past.
The sensation is finally coming back to our legs after a ridiculous 2014 rookie WRs class that saw Odell Beckham Jr. (fourth), Mike Evans (11th), Kelvin Benjamin (16th), Jordan Matthews (24th), Sammy Watkins (25th), Jarvis Landry (42nd), Martavis Bryant (43rd), Allen Hurns (44th), John Brown (49th), and all land inside the top-50 Fantasy WRs. After that group? Brandin Cooks (57th), Allen Robinson (70th), Donte Moncrief (74th), Davante Adams (76th) and Quincy Enunwa (191st)!
The 2018 NFL Draft really did have the greatest rookie WR class in Fantasy Football history!
It also made us think we were in a new era for rookie wide receivers in Fantasy play.
We were wrong.
Sure, Steelers rookie JuJu Smith-Schuster (17th) was a top-20 Fantasy season at WR last year, with Cooper Kupp (27th) as a top-30 WR, but the next-best rookie wideout wasn't until Keelan Cole, all the way down to 41st among WRs. If that wasn't discouraging enough, consider that the fourth-best rookie wide receiver was Detroit's Kenny Golladay (81st).
In 2016, Michael Thomas led the Fantasy rookie WRs, as the ninth-best at the position, with Tyreek Hill (15th). But Sterling Shepard (37th) as the only other rookie inside the top-50 Fantasy scorers among wideouts.
In 2015, it was Raiders rookie WR Amari Cooper that led the first-year pass-catchers, coming in 23rd at his position in Fantasy points. But Tyler Lockett (42nd) and Stefon Diggs (46th) was the only other rookies among the top 50 WRs. Dorial Green-Beckham (55th) (remember him!?!) stunk it up as the 55th Fantasy wide receiver, despite being the 40th overall pick in the 2015 NFL Draft. Yeah, he has been out of the NFL since 2016.
Rookie WR Fantasy Football Averages 2015-17
These are how many rookie wide receivers rank among each group in Fantasy WR scoring by the end of their first season.
| | 2015 | 2016 | 2017 | Total | Avg |
| --- | --- | --- | --- | --- | --- |
| Top 12 WRs | 0 | 1 | 0 | 1 | 0.3 |
| Top 24 WRs | 1 | 2 | 1 | 4 | 1.3 |
| Top 36 WRs | 1 | 3 | 2 | 6 | 2 |
| Top 50 WRs | 3 | 3 | 3 | 9 | 3 |
We understand now, in hindsight, the 2014 rookie class of wide receivers was certainly a mighty outlier and not a predictor of how NFL teams were going to be utilizing rookie WRs more. By looking at the table, we can guess there will be one rookie among the top-24 wideouts, two rookies in the top-36, and three rookies in the top 50.
So who do we think has the best shot for each of those slots?
2018 Rookie WR Rankings For Fantasy Football
Let's look ahead to see who we think will be the best 2018 rookie wide receivers for Fantasy Football this season.
1. D.J. Moore, Carolina Panthers
The Panthers haven't had much at wide receiver since the days of Steve Smith, even when Kelvin Benjamin in town, Cam Newton just hasn't been able to find that pass-catching connection on the outside. Moore is a dynamic player that looks to be the best of this class, both this year and in the coming years, which isn't always the case with other rookies. That means Moore will have opportunity, working on the other side of Devin Funchess, and he will have the talent – a top college playmaker that turned in a stellar NFL Combine. Fantasy owners should quell their expectations, though, as he'll have to battle Funchess, TE Greg Olsen and Christian McCaffrey for targets in a passing offense that ranked 28th in the NFL last season. Much like any rookie wide receiver you might consider, Moore is a late-round option.
Embed from Getty Images
2. Calvin Ridley, Atlanta Falcons
This is likely the name college football fans think of when they consider the 2018 rookie class of WRs, as this Alabama product ranks among the school's career leaders in many receiving categories, despite playing just three years. Playing opposite Julio Jones, and possibly in the slot, will give Ridley opportunities to shine – but he'll have to overcome Mohamed Sanu in Steve Sarkisian's offense. That second part is why we think he's more of a late-round option who won't pay off early on.
Keep your eyes on Falcons rookie WR Calvin Ridley. The kid is unreal and we're predicting that he finishes the year as a top 15 fantasy receiver. Definitely a player to target in the mid rounds of your draft! pic.twitter.com/uB4GhU7Int

— FantasyFootballGoon (@FFBgoon) June 24, 2018
3. Christian Kirk, Arizona Cardinals
Remember when the Cardinals had three top-40 Fantasy wide receivers, with Larry Fitzgerald, John Brown and Michael Floyd? Fitzy's still there, but the other two are long gone – as is former Pro Bowler Carson Palmer, which means this passing game is in transition. That's a good thing for Kirk and his prospective Fantasy owners, since he could easily become the No. 2 receiver in Arizona by the end of the NFL Preseason. Dynasty owners should be interested also, considering Fitzgerald's retirement party coming soon.
4. Courtland Sutton, Denver Broncos
Sutton isn't a huge playmaker, like many of his rookie classmates, but he's a steady, solid contributor that was athletic enough to also play basketball for SMU. It's difficult to put too much stock into his 2018 potential, with Demaryius Thomas and Emmanuel Sanders running the WR show, but Sutton could take over an outside spot, allowing Sanders a chance to move into the slot.
5. Michael Gallup, Dallas Cowboys
The Colorado State wideout is in one of the best spots for a rookie wide receiver, joining a Cowboys offense that lost Dez Bryant and Jason Witten in the offseason. Defenses will be paying an awful lot of attention to the Cowboys running game and Ezekiel Elliott in the flats, which means Gallup, a physical receiver, could become a go-to player for QB Dak Prescott. He makes for an excellent late-round pick, and PPR owners should bump him up to a spot or two.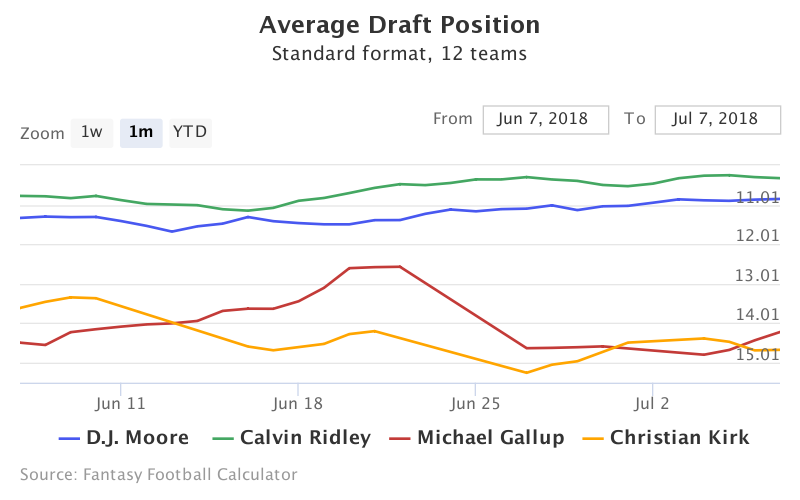 6. Anthony Miller, Chicago Bears
Things are looking up for the Bears' passing game, and Miller could end up being part of the reason. The Bears brought in several new pass catchers, though, including Allen Robinson and Trey Burton, so Miller will have to work his way into some action. He should work the slot, however, which is usually a great spot for PPR WRs working with young quarterbacks like Mitch Trubisky.
I love this exchange between Bears rookie WR Anthony Miller and ESPN Fantasy Football Guru Matthew Berry: pic.twitter.com/DkVXBjIB3T

— The Ten-Yard Line (@TheTenYardLine) June 1, 2018
7. D.J. Chark, Jacksonville Jaguars
Much like Kirk and Gallup, Chark joins an offense that's undergoing major restructuring at the wide receivers position. The Jags lost Allen Robinson and Allen Hurns in one foul swoop, leaving Marqise Lee, Dede Westbrook and Keelan Cole as the main returnees. The Jaguars drafted Chark, but also signed former Colts WR Donte Moncrief, who could be a nice sleeper to watch in the preseason. Chark has size (6-foot-4) and speed (4.34 40), but the Jaguars are likely going to use him more on special teams in the early going.
8. Dante Pettis, San Francisco 49ers
This rookie out of Washington also looks like a special teams player early on, but the reports out of OTAs are good on him, as the Niners are using him in several WR spots, from X, Y and Z. Obviously, the faster he can learn how to play inside or outside, the faster he'll get worked into the offense. There are times when a utility man is valuable in Fantasy, but for now, Pettis will just be a Fantasy free agent you keep an eye on in 2018.
9. James Washington, Pittsburgh Steelers
With Martavis Bryant now in Oakland, the Steelers might turn to this rookie out of Oklahoma State to pick up the extra targets. Unfortunately, this offense is full of stars, making Washington a player who needs something to happen injury-wise before he gets a chance at meaningful Fantasy targets.
10. Deon Cain, Indianapolis Colts
With T.Y. Hilton the only wide receiver worth much in this Colts offense, there is definitely opportunity for someone like Cain to get enough targets to become Fantasy worthy in-season. As far as your drafts go, skip the Clemson wideout until he earns a starting spot. The good news is NFL.com rated him fourth among all prospects, and their NFL comp was Roddy White. You can't hate that!
As we mentioned, recent Fantasy history hasn't been kind to first-year wideouts, and these 2018 Rookie Wide Receivers rankings won't likely spur you on to drafting too many of these guys. Don't forget to check out our other Fantasy rookie rankings:

While you're waiting to read our rookie tight end rankings, send the SCFE Fantasy Football staff your keeper questions for free!
Latest posts by David Gonos
(see all)