DFS Glossary
When you start out in Daily Fantasy Sports, you'll quickly realize there are a lot of terms you're not familiar with. Don't worry, though, since that's what this Daily Fantasy Sports glossary is all about!
Even if you've been playing Fantasy Baseball or Fantasy Football for years, there are still a lot of different acronyms and definitions you should know about.
This Daily Fantasy Sports glossary will be an ever-expanding list of terms and definitions, so feel free to let us know if there are some definitions you'd like to see added to the list.
Daily Fantasy Sports Glossary
50/50 or Double-Up: These tournaments pay out to the top half of the finishers. Basically, the payout is 1-to-1, without the rake, so the bottom finishers' fees essentially pay out their fees to the top half of the finishers.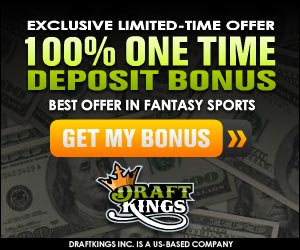 Bonus/Rewards: While some sites give "deposit bonuses" or "reward dollars" to their users, they might hold this money in a separate account which is slowly "leaked" out to the cash portion of your account, depending on how much you play on a given site. Some sites offer freerolls as rewards to players that spend over a certain amount in a given month.
BvP: Batter vs. Pitcher statistics tell readers what this batter has done against this specific pitcher, or vice-versa, throughout his career.
Buy-In: The fee to join a specific game or tournament on a site. Sometimes, the buy-in is free, and other times, you might win the buy-in for a more expensive tournament by winning a cheaper tournament.
Deposit Bonus: Many sites add money to your account depending on how much you deposit, and when. Sites often run specials for deposit bonuses (sometimes matching them 100 percent) or redeposit bonuses for when you put more money in later.
Field Size: The number of entrants competing in a specific tournament. The field size doesn't necessarily have to be the max entrants for a tournament, since some tournaments can begin in spite of not filling up (See GPP and Overlay).
Freeroll: Many sites allow free entry into some of their games, to help new players and relative beginners get used to the scoring systems and the nuances of the site. Freerolls are also sometimes the benefits received by players that play a lot. They might receive an entry into a freeroll with a sizable prize as a reward for their patronage.
GPP: Guaranteed Prize Pools are tournaments that pay out a specific amount, not matter how many entries it gets.
Heads-Up or H2H: Similar to 50/50 or Double-Up games, in that the payouts are basically double the entry fee. But these games are usually just one player vs. another player, with the winner doubling his money, minus the rake.
Multi-Entry: Each entrant can "buy-in" as many times as they want, usually with different lineups.
Overlay: This is the amount of prize money awarded to players in a contest that weren't covered by the total number of buy-ins from all entrants. In other words, if the tournament has a guaranteed prize pool (GPP), then the site guarantees that the prize pool amount will be paid, even if it doesn't fill to capacity. The difference in money between the payout and the buy-ins is considered the "overlay."
Pick 'em: Entrants will pick between sets of players (sometimes just between two players) trying to pick the highest scorer among the group.
Qualifier: This is a cheaper tournament whose winners win a seat (entry) into a tournament with a bigger payout.
Rake: This is the portion of money kept by the Daily Fantasy Sports sites in order to run and host their games/tournaments. Consider this the house's take. Most of the sites have about a 10-percent rake, but you'll want to see what the differences are on the site your playing and some of the others. Also, some sites charge you the rake up front, whereas others take the rake out of the prize payout. For instance, you could pay $5.50 to join a four-man tournament, with the winner taking home $20, which is an example of paying the rake first. Other sites allow you to join for $5, but then the winner takes home $18. Either way, the host site rakes $2, or 10 percent.
Single Entry: Each entrant is only allowed to field one lineup. They can only join the tournament once.
Splits: The differences between a hitter's home or away stats, or stats against a left-handed or right-handed pitcher, etc. Lefty/righty splits are also a big part of assessing the value of a pitcher, as well.
Stacking: This is when an entrant chooses to "stack" multiple players from the same team into their lineup. This can sometime cause a compounding scoring output. For instance, pretend you "stacked" your lineup with Shin-Soo Choo, Elvis Andrus and Prince Fielder. Then Choo gets on base with a single, and Andrus follows with another single. Finally, Fielder homers to bring them all in. You'll get runs scored for each of them, along with their total bases, and Fielder will get RBI on the runs that Choo and Andrus scored already. Some sites allow stacking, and some sites allow just a limited number of players from each team you can use.
Feel free to comment below and tell us which definitions we're missing, or to ask for definitions that we forgot to add to the list. Again, we're hoping to keep updating this Daily Fantasy Sports Glossary regularly.