This is not the first time I've talked about Kerryon Johnson this season. And it will not be the last, because no one's stock is rising faster than Kerryon Johnson.
I am absolutely giddy in those leagues where I own him. And I am equally as devastated in those that I do not. In case you took a Vontaze Burfict elbow to the head recently and are unaware of what Johnson has done, let's review, shall we?
Let's start with the negative. The Lions continue to give LeGarrette Blount carries near the goal line. However, even that is starting to dwindle. Blount got the call on second and goal this past weekend, but that was after Johnson got the call on first. Sure, Blount converted and Johnson did not. But if you watch the replay, you can see there was nowhere for Johnson to go on first down; yet on second the OL created a hole big enough for Andy Reid to walk into the end zone untouched.
Meanwhile, Johnson continues to get the lions share (no pun intended, I swear!) of carries for Detroit. He had another strong week this past week. Despite not getting all the goalline carries, he had a huge day rushing 19 times for 158 yards. He continues to be a weapon out of the backfield, adding two receptions for twenty one yards as well.
Carry on Kerryon; continue doing what you are do.
Of course, some other players besides Kerryon Johnson are seeing their stock move as well.
Week 8 Stock Report
Risers
Raheem Mostert, RB, SF
Let's be clear about this, Mostert is nowhere even close to Kerryon Johnson. If Johnson is a mid-level growth stock that has blossomed into a blue chipper, then Mostert is not much more than a penny stock. But at the rate Mostert's stock is rising, he's going to start to cost you a few dollars instead of a few pennies. Matt Breida continues to spend more time than we want with the 49ers medical staff and Alfred Morris makes us wonder if he maybe needs more time with the 49ers medical staff. Meanwhile, Mostert continues to impress and is averaging over six yards a carry this season.
Marlon Mack, RB, IND
So Mack had himself quite the day on Sunday, rushing for 126 yards and a touchdown. However, I would look to sell him soon. Yes, the Raiders are a very juicy match-up next week. But the three weeks following that include a bye followed by the 5th and 6th least generous run defenses. And if we take a longer view, the fantasy playoff weeks include the stingy run defenses of Dallas and Houston. If you can somehow buy low on Mack, keep truckin'.  However, Mack is a player I would prefer to sell high while I can.
Nick Chubb, RB, CLE
In my excitement about Kerryon Johnson, I nearly forgot how eventful Friday was when Carlos Hyde was traded to the Jags for a 5th round pick. The deal actually makes sense for both teams, but let's focus on the Cleveland part. Cleveland could unload Hyde due to how good Chubb has looked. And Chubb rewarded their faith in him by rushing for a touchdown and 80 cards on 18 carries. If for some reason Chubb is still available in your league, you need to grab him now.
Fallers
Justin Tucker, K, BAL
We can no longer say that Tucker is perfect on extra points. I was there in person when it happened. With about two minutes left in the game, I envisioned dozens of different ways Baltimore might lose that game. Not one was a missed Tucker XP. He is one of the most accurate kickers of all time and has been a perfect 222 on 222 attempts. But not long after darkness fell in the October Baltimore sky, a strange crosswind picked up and snatched what looked like another straight shot from Tucker between the uprights and turned the ball just right. It sent the Raven faithful home in a zombie like trance. Of course what does that mean going forward?
The answer is simply nothing. Tucker remains a stud kicker and there is zero reason to drop him. Do not expect a second missed extra point. I still have Tucker as my top kicker on the board. Tucker and Matt Bryant are the only kickers in the league who are perfect from 50+ yards who have attempted at least three from that range. You might want to even see if you can pry Tucker away from his owner. Ka'imi Fairbairn for example has outproduced Tucker so far, but I don't see that happening in the second half of the fantasy season.
Alfred Blue, RB, HOU
His spot start against Dallas a few weeks showed his potential upside. But he was out-carried 23 to eight by Lamar Miller this week, who finally notched his first 100-yard game and his first touchdown of the season. But Blue's drop is not limited simply by Miller's success. The far more explosive D'Onta Foreman is expected back on the field soon as well. Even if Blue somehow became the primary back, I am still very concerned about the Texans offensive line. Both Football Outsiders and Pro Football Focus have the Texans OL in the bottom third of the league.
Derek Carr, QB, OAK
First Crabtree. Then the Raiders unload Khalil Mack. And now the Raiders send Amari Cooper to the Cowboys. It's not like Carr was putting on an aerial show before. This chart from his last game is pretty telling….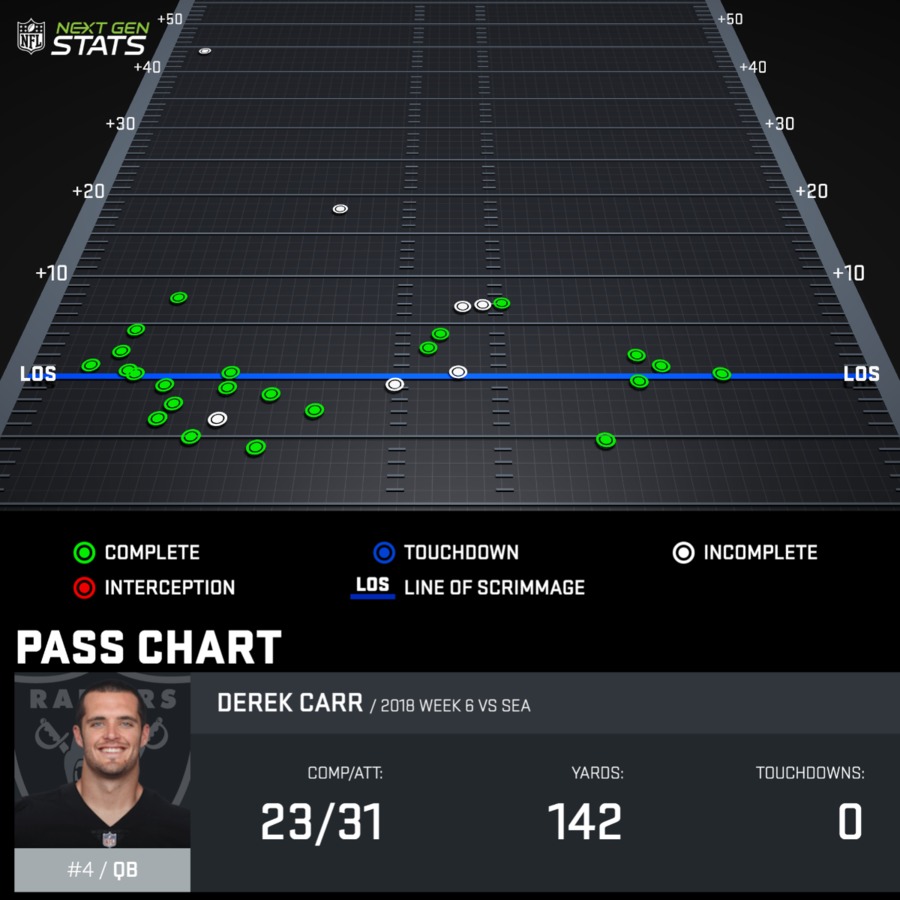 One attempt over 10 yards and it was incomplete. And now Cooper is gone. If you can sell your shares of Carr for even 10 cents on the dollar, do it now before any buyers regain their senses.
Trust me, you can Kerryon (pun intended obviously) without Carr.
Latest posts by Mark Strausberg
(see all)